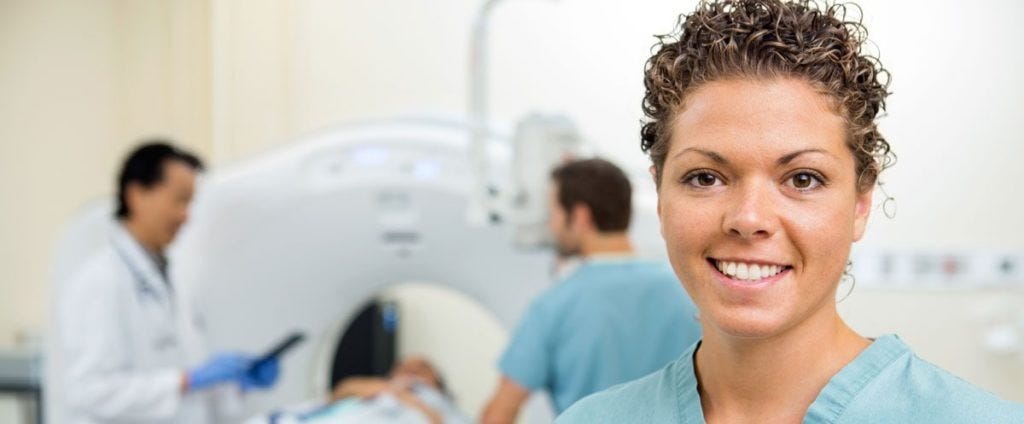 Tele-RT
The new solution for efficient large-scale equipment use in your clinic or practice
The situation:
Radiological practices and hospitals are desperately seeking suitable specialists to operate radiological equipment: In relation to the total number of current full-time positions in the hospitals concerned, around one in ten radiology technician positions by now remains vacant. The number of RT graduates has also dropped alarmingly in the meantime. Since mid-2000, these have decreased from around 2,300 to less than 1,400 entrants per year.

The solution:
Whether you are experiencing a staff shortage due to vacation, illness or other absences of your experienced RTs, or are having difficulty filling night, holiday and weekend shifts, our Tele-RT service will help you to keep your large-scale equipment operating efficiently and without interruption.

The implementation:
Tailored to your needs, the Tele RT IT solution allows multiple large-scale devices to be controlled from one console, regardless of location or device manufacturer. Consequently, the expertise of a RT can be used at several workstations simultaneously. Younger and less experienced RTs may thereby also contact experienced RTs for complex examinations in order to meet the high demands of diagnostic image quality.

The advantages at a glance:
- Eliminate bottlenecks
Vacation, illness, night and weekend shifts - Tele-RTs.

- More efficient use of equipment
Operate multiple devices simultaneously, regardless of location, from one console.

- Know-how where it is needed
Expertise from experienced RTs where it is needed.

- Exchange and assistance
For complex questions / examinations.
By clicking on the image to the right, an explanatory video will open, which was created in cooperation with our partner Vepro and explains the content described above in more detail.
Inhalte von Youtube werden aufgrund deiner aktuellen Cookie-Einstellungen nicht angezeigt. Klicke auf "Zustimmen & anzeigen", um zuzustimmen, dass die erforderlichen Daten an Youtube weitergeleitet werden, und den Inhalt anzusehen. Mehr dazu erfährst du in unserer Datenschutz. Du kannst deine Zustimmung jederzeit widerrufen. Gehe dazu einfach in deine eigenen Cookie-Einstellungen.
Zustimmen & anzeigen