Tele-RT
MTRA in home-office
the new solution for MTRAs and application specialists
- efficient large device control from anywhere -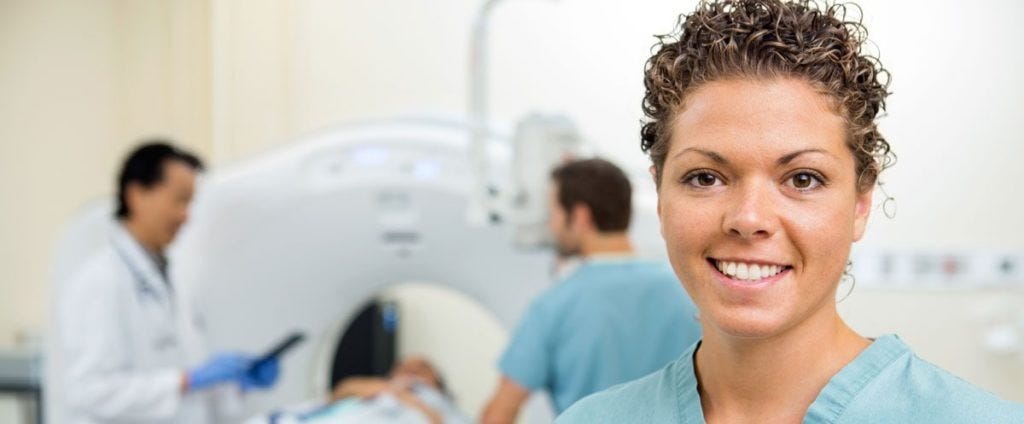 Situation:
In the course of examinations in hospitals and radiology practices, it often turns out to be more complicated than initially assumed, or the routine deviates in the case of rare special examinations. Especially young radiology technicians often lack the experience, safety and routine for these examinations. Furthermore, staff shortages are a major issue, which is why it can be difficult to cope with the daily work routine.

Work-life balance:
Even as an RT/MT, there is the desire, or the necessity, to reconcile work, hobby and family. Maintaining this balance, that is, a balanced state between our work and (the rest of) our lives is often a major challenge.

The Corona Pandemic:
Currently has also our working life firmly in its grip and we are forced to adopt new ways of working for all our safety.


Solution:

Investigations:
Our customized IT solution allows multiple large devices to be controlled from one console, regardless of location or device manufacturer. In this way, the expertise of an RT can be used at several workstations simultaneously. So to speak, expertise where it is needed at the moment. In this way, personnel gaps can be closed intelligently. Also, younger and not yet so experienced RTs can, in the case of complex examinations, contact experienced RTs in order to meet the high demands of diagnostic image quality.

Home-office:
Theoretically, a 3H-Vision employee can work from anywhere in the world. The resources of MRIs, CTs and a trainer are often very scarce, 3H-Vision can expand the range of examinations in a very short time.
A good work-life balance is an important issue for 3H-Vision. 3H-Vision offers you an easy way to work flexibly according to your time schedule. We offer different working models for you.
Registration:
All you need to do is a one-time and free registration on the 3H-Vision platform and we will contact you immediately. The only requirement to be a member of our team is the appropriate knowledge in the field of CT and MRI. So for the area of CT a valid X-ray certificate (Required knowledge in radiation protection for persons with otherwise completed medical training for the use of X-rays on patients, CT).



By clicking on the image to the right, an explanatory video will open, which was created in cooperation with our partner Vepro and explains the content described above in more detail.
Inhalte von Youtube werden aufgrund deiner aktuellen Cookie-Einstellungen nicht angezeigt. Klicke auf "Zustimmen & anzeigen", um zuzustimmen, dass die erforderlichen Daten an Youtube weitergeleitet werden, und den Inhalt anzusehen. Mehr dazu erfährst du in unserer Datenschutz. Du kannst deine Zustimmung jederzeit widerrufen. Gehe dazu einfach in deine eigenen Cookie-Einstellungen.
Zustimmen & anzeigen
Some testimonials from our employees
Employee MTRA Frank P.
"I have been working for the company since 2017. For me, it is the ideal complement to my main job at the hospital. The job is coordinated exactly with my time possibilities. The assignments in different practices and hospitals provide variety in my daily work. Continuing education is very important here; I was even able to go to Paris to a contract partner for an application training course. Everything was well organized. The working atmosphere is very relaxed and the pay is perfect, I'm happy all around."

Employee MFA Heike E.
"The job is well paid and the activity is very appreciated. I have been working for 3H-Vision since 2013. After my parental leave, it was the ideal start for me to reconcile career and family. Also since the birth of my second child, everything is going smoothly. The time and place of work are perfectly coordinated with my family life. Using the calendar page, I can quickly and securely pass on my requirements, or coordinate the dates in a personal meeting. Everything without stress and nothing comes up short. The work is very versatile and it's fun to often have a new field of activity with nice people."

Employee MTRA Artan S.
"Everything fits! It's a lot of fun."

Employee MTRA Bastian B.
"This platform is a super solution, fully comprehensive, free of charge and without restrictions. A personal email was sent after only two days. The most important information can be quickly clicked on the form. No letter of application is necessary, only a valid X-ray certificate as MFA or a training certificate as MTRA is required. You can use the calendar to enter your desired working hours and you can also select the radius in which you would like to work in a radiology department. The personal interview was very relaxed and you felt welcome. The pay is really good. My assignments are well organized, a contact person is always on site ready to help."